A tale for all romantics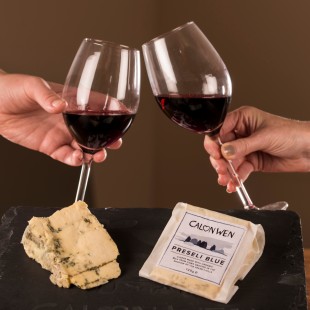 February of course is the month where lovers celebrate St. Valentine's Day. The Welsh can't wait until February! Dwynwen, the patron saint of Welsh lovers is celebrated on the 25th of January each year. Legend has it that she'd set her heart on marrying a handsome young man called Maelon but her father had arranged for her to marry someone else. Broken hearted, she was visited by an angel and granted three wishes one of which was that everyone would find some happiness and love.
Today's young lovers often talk about their hopes and dreams over a romantic meal. Picture the scene: you have just enjoyed a candlelit dinner, you pour a glass of Merlot, you un-wrap Calon Wen's Preseli Blue cheese from the parchment, and as you present it on a platter of Welsh slate you tell the story of how the mystic blue stones of the Preseli hills inspired its creation. A sure way of winning someone's heart! And, there's only one way of finding out!
Send us your favourite recipe using Calon Wen's range of dairy products.
Calon Wen Recipes